FDNY Supports Girls with Rett Syndrome at Annual Blue Sky Girls Event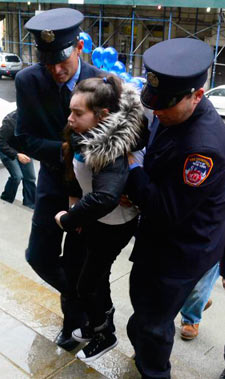 FDNY firefighters help girls with Rett Syndrome climb the Tweed Courthouse steps at the annual Blue Sky Girls event.
FDNY firefighters supported dozens of young girls with Rett syndrome and their families on Oct. 1 for New York City's Blue Sky Girls event, which aims to increase awareness for the disease.
Rett syndrome is a disorder of the nervous system that leads to developmental reversals, especially in the areas of language and hand use. Since it is on the X chromosome, it affects only girls.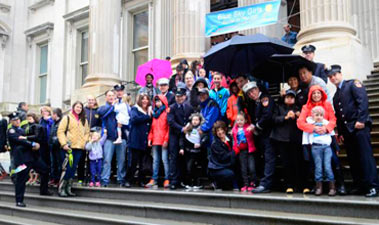 The group who participated in the 2014 Blue Sky Girls event.

During the Blue Sky Girls event, FDNY firefighters and families helped children with the disorder climb to the top of the Tweed Courthouse's staircase in Manhattan. The symbolic gesture aimed to inspire girls with the neurological disorder to keep going in life.