Hazing Rituals Re-Evaluated Amid Sexual Assault Arrests in Sayreville
Wednesday, October 15, 2014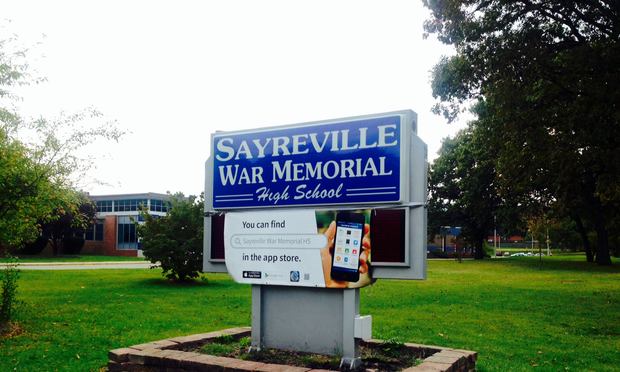 (Sarah Gonzalez/WNYC)
In light of the sexual assault allegations at Sayreville War Memorial High School in New Jersey, questions are emerging about the role of the coaches at school and hazing rituals in sports.
Seven high school football players, ages 15 to 17, have been arrested for assaults on four members of the team.
The charges include aggravated criminal sexual assault, aggravated criminal sexual contact, and "hazing for engaging in an act of sexual penetration."
Sayreville resident Sheila Brown said this goes far beyond "boys being boys" in a locker room.
"To me, hazing was what hazing was when we were in school," she said. "You threw a kid in the shower or you made fun of them or something like that. This to me is beyond hazing. It's beyond comprehension."
The state gets 30 days to decide whether it'll pursue charging the seven teenage students as adults.
Randy Nathan, a mental training coach for the baseball team at Rutgers University in Newark, speaks to high school coaches all over the state about hazing rituals in sports.
If the Sayreville allegations prove to be true, he says the behavior would likely have been learned.
"It is passed down and the original intention often sometimes changes forms," Nathan said. "What was initially done to them is altered by the time that they're seniors and leaders on the team."
According to 2008 research conducted by professors at the University of Maine,
47 percent of college students experienced some sort of hazing in high school
, like being forced to drink alcohol or get a tattoo. But less than 10 percent called it hazing.
Nathan, a former high school coach and author of the book
Bullying in Sports: A Guide to Identifying the Injuries We Don't See
, said there's a code in sports: what happens in a locker room stays in a locker room.
"It's a group-think mentality and it's based on ritual and tradition," he said. "The greatness of the whole is much more important than the individual. And so it's easy to get tunnel vision in terms of what you're supposed to be in terms of being part of that team."
Nathan said he understands that there are some rituals in sports. The most common he sees in New Jersey is making younger teammates carry the equipment of older players. He said that can be okay, as long as the coach is present and the team member isn't being taunted.
But he said traditions of butt-slapping and towel-whipping need to stop.
"Sports and athletes are often encouraged to create an imbalance of power to win," Nathan said. "Those components that require an athlete to be successful on the field are the same components that create a bullying environment."
More in:
Sarah Gonzalez is the northern New Jersey enterprise reporter for WNYC and NJPR.