FDNY Supports 8-year-old Leukemia Survivor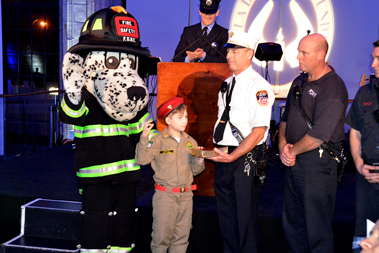 Deputy Chief Anthony Devita and Hot Dog, the FDNY's Fire Safety Mascot, and the members of Ladder 16 stand by Joao Daniel de Barros, as FF Carlos Azevedo, Engine 316, swears him in as a Junior FDNY Firefighter.
The FDNY supported 8-year-old leukemia survivor Joao Daniel de Barros at the annual Icla da Silva Foundation's Hope Gala on Oct. 15, swearing him in as a Junior Firefighter.
The boy, who lives in Brazil, attended the event to meet his bone marrow donor. His family said he is a fan of the FDNY, so during the ceremony at Gustavino's in Manhattan, firefighters surprised him. They swore him in (in Portuguese) as a Junior Firefighter.