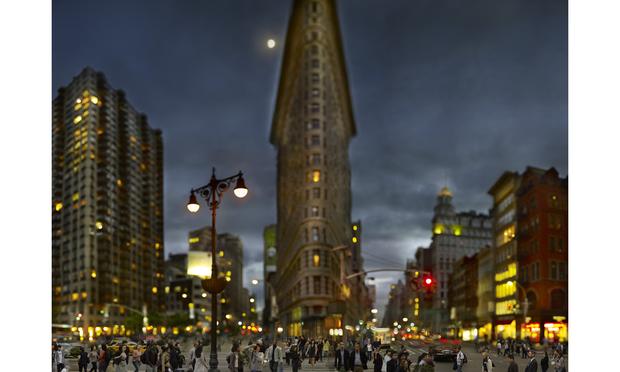 New York City has been the muse of countless photographers of every stripe and style, and it continues to inspire artists seeking new ways to present its boundless energy and humanity.
Taiwanese artist
Jeff Chien-Hsing Liao
has walked the five boroughs for a decade capturing the city's people and places with groundbreaking technique.
For each image, Liao spends hours shooting dozens — sometimes hundreds — of photos across a scene, and then curates the visual elements in photoshop to create sweeping, seamless panoramas.
The images, as seen in billboard-sized prints at his solo exhibit "Assembled Realities," now on view at the Museum of City of New York, reveal Liao's artistry — the instincts of a street photographer, the sensibilities of a landscape painter, and the painstaking execution of a documentary filmmaker. And there's something from every New Yorker in his oeuvre.
There's the new, like Coney Island's Luna Park, or breathtaking aerial views from the Frank Gehry skyscraper at 8 Spruce Street. And there's the bygone, like baseball fans at Shea Stadium, and graffiti artists working at 5 Pointz as the elevated 7 Trains rumbled by.
Assembled Realities
is on view through Feb. 15. More images of New York by Liao can be seen in a new
monograph
published by Aperture.
More in: